Since it took me so long with Zero, I decided to finish Kaname's profile because I know most people wanted to read Zero's and Kaname's profile the most. I know it was meant to be Yori's profile before Kaname's, but I was closer to finishing his then hers. Plus, Kaname is my favourite character so I couldn't resist to translate the rest of his!
So here is his lovely profile: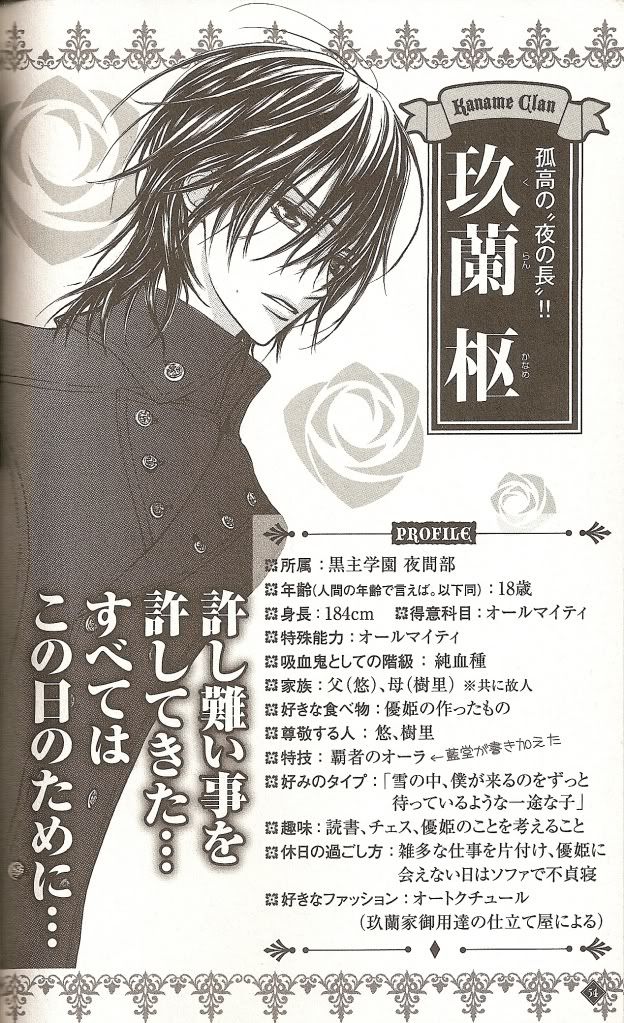 And the translation:
Belongs to: Cross University, Night department
Age: 18 years
Height: 184cm
Special field: Allmighty
Special ability: allmighty
Level as a vampire: pure blood type
Family: Father (Haruka), Mother (Juuri), both dead
Preferred food: Food made by Yuki
Type of person he likes: A serious-minded girl who waits for him in the snow to arrive.
Hobbies: reading, playing chess, thinking of Yuki
How he spends his holidays: doing all sorts of work; on days when he cannot meet Yuki he sleeps on the sofa in a huff.
The fashion he likes: Haute couture


I found it interesting the Kaname is allmighty. I thought that even purebloods have a power that they are better at using then others, so I was looking forward to seeing what Kaname's special power would be. But I guess I should have expected something like this. He is the person who created vampires after all, so it seems right for him to be the strongest.

Oh, and I want to credit maao15 for the scans. And my family as well who have far better Japanese then me and have helped me translate all the profiles so far.